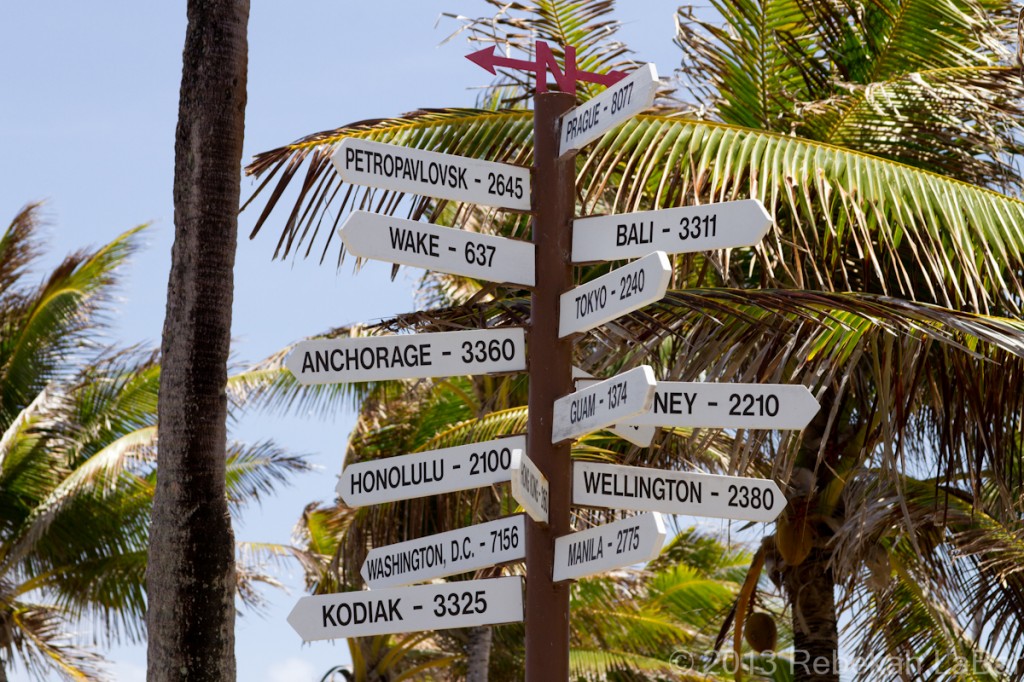 My two year contract at the weather station on Kwajalein is coming to a close (already?! where did the time go?). While I had the opportunity to renew it, I decided for various reasons to pursue other opportunities. I have loved my time here and there are some people and some things I will miss, but further challenges and interesting weather are calling me.
I just accepted an offer to work as a meteorologist for MetService, New Zealand's National Weather Service. I am beyond excited to say I will be moving to Wellington, New Zealand this August! The position sounds great, and I look forward to learning more about Southern Hemisphere and New Zealand weather and exploring this beautiful country.
The above photo is the famous Kwaj signpost by the airport, showing the direction and approximate distance in miles to various places around the world. Wellington has been added to the signpost sometime since I first got here, and now I smile whenever I notice it as I pass by–"only" about 2,400 miles further south!
The next few months will bring a lot of traveling for me, as I'll also soon be flying back to Oklahoma to go storm chasing and visit friends for a few weeks across the Plains.
Perhaps I'll have to start a New Zealand blog soon, and hopefully keep up with it a little better; I am looking forward to having high speed Internet again so I'm sure there will be more motivation for blogging and posting photos as I have time. And yes, I will continue to dive after I move to New Zealand; I'm quite excited to find out more about the diving opportunities there, and even more so getting back into hiking.